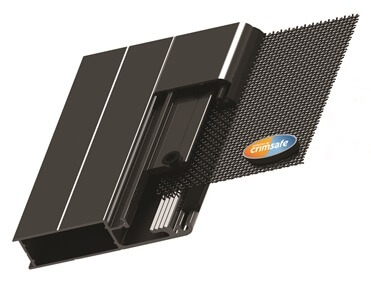 Crimsafe Ultimate is designed to include all Crimsafe's core features:
Screw-ClampTM technology: clamped and screwed to resist powerful impacts
Tensile-Tuff® mesh: 0.9mm 304 structural grade high tensile woven stainless steel
Tamper Resistant Screws: not able to be removed with readily available tools
Extra Strength and Extra benefits
40 % Stronger than regular Crimsafe
7 times stronger than the singular impact level required by the Australian Standard
Clip on cover that adds an extra layer of security and conceals the fasteners
Greater design flexibility in securing large openings
Sleek styling

Unique Clip-on Cover
The revolutionary clip on cover creates a concealed chamber within the frame which enables the Crimsafe Ultimate system to withstand 3,000 hours in the salt spray test.
The equivalent of 30 years exposure to the elements.
The industry standard is only 1,000 hours.
The Tensile-Tuff® mesh is able to withstand 10,000 hours in the salt spray test.
The Ultimate in Strength
Crimsafe Ultimate performs at the same level as Crimsafe Heavy Duty resisting impacts levels up to 700 joules.
The Ultimate in Design Flexiblity
Crimsafe Ultimate brings a new level of security, comfort and style to living.
You can secure almost any opening with Crimsafe Ultimate – it is so strong it can span wider and higher openings without compromising its structural integrity – allowing you to open up your home to the great outdoors.
Hinged doors
Sliding doors
Fixed windows
Awning windows
Casement windows
Louvre windows
Alfresco areas
Bi-fold doors and windows
Mosquito and fly resistant

15 Year Warranty!*
Crimsafe products kept clean in accordance with our Care and Maintenance Guide are warranted to be free from defect for a period of 15 years from the date of installation. This Warranty is non-transferable.
* Terms and conditions apply